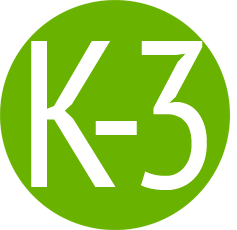 New Image, New Brand, New Start
29 Oct 2013, by Blog
in
Welcome to the brand new K-3 Technologies website. If you are here for the first time to learn what we are all about then welcome! If you are a returning visitor checking out the new digs, then welcome back! We are so excited to have this new website up and running. As you can see we have added some new items to our services that we provide, have a much more detailed portfolio, and have changed our brand just a bit.
So what's new?
Web Design– We offer web design for three different groups: start up, small business, and corporate clients. This page provides a complete layout of how much everything costs, and what you will receive when purchasing one of these designs. These pages now offer a much clearer breakdown of what we can offer you to increase your website presence.
Internet Marketing– One of our newest services, with two new additions! Are you noticing your competitors on social media, but you don't have the time to create the social media presence you need? That is where we come in! Let is help you with your social media platforms such as: Facebook, Twitter, Instagram, Pinterest, and Google+. Stand out from your competitors by being optimized on Google Local, and sharing coupons via mobile devices.
Under Internet Marketing, we are also offering search engine optimization, or SEO. This is a service we previously offered, but with the changes that Google has brought out over the past few months, there are some changes to what we offer to keep in line with Google. Be confident that we are constantly watching what Google's new algorithms are, and shifting our work to help benefit our customers.
Under this group, we are now offering PPC! This is pay-per-click advertising for Google, Bing, and Yahoo. Have you ever done a search on Google, and in the top of the page and to the right of the page you see tiny little ads to click on? That is PPC advertising, and with the correct keywords and a decent price for that click, you could see your company's ad on page one of a Google search. If you have wanted to try PPC, we are the company to get started with.
Finally, our second newest addition, consulting! Internet marketing can offer a zillion different advertising opportunities for your brand. But which opportunities should you take? That is where our consulting option is perfect for you. Let us sit down and talk about where your business is, and where you want to take it. Then let us help you take these zillion opportunities and filter out the ideas that will work for you and your brand. No more guessing and spending money on ideas that you hope "might" work!
Web Hosting- This was a service offered before, and not much has changed. You will get the best of web hosting, with little to no down time. Other web hosting companies may go down, but our web hosting history is still top notch!
This brand new website now offers you a chance to look over our portfolio, answers our frequently asked questions, and we even have a blog!
We want to hear from you! What do you think of the new site? Is there anything you think we should add? Should we explain out a service in more detail? What sections of the new site do you like?