5 Marketing Trends for 2015
14 Jan 2015, by Blog
in
What better way to greet the New Year than to rev up your online image?  You may have resolutions to hit the gym or to be less stressed in your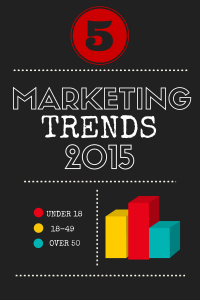 personal life, but what are you doing for your business?  We're here to take the guesswork out of building your brand for 2015!
1.) ORM
One tool that is not disappearing anytime soon is Online Reputation Management.  The best way to improve your reputation is to create engaging content, with a clear and concise message.  Viewers are like 2 year olds in a Build-A-Bear workshop; they have very short attention spans.  Remember to make it interesting and straight to the point.  Take your networking a step further this year by reaching out to businesses in a similar industry.  Both parties stand to gain more visibility.
2.) Social
Algorithms are changing slightly for business owners. Take Facebook for example, which is now ranking status updates from Users separate from Pages.  You'll have to pay to reach the top of the news feeds, a concept that once happened organically.  One should also focus more efforts on mobile as Facebook saw an increase in 34% of users logging in through mobile.  With the rise of tablet-sized smartphones, consumers are spending way more time in the palm of their hands.  Make it a priority to create more mobile friendly designs.
3.) Blogging
This may come as no surprise and perhaps you have one; but how much TLC are you really giving it?  Always use images to accompany your posts.  Take high quality photos or scout freebies on websites like Flickr (give credit when it's due!)  Amplify your blogs with video and although the rules of SEO are always changing, never miss an opportunity to optimize your content.  Utilize keywords throughout your blog and in the description box of your uploaded videos.  Remember to create a healthy balance between informative and entertaining!
4.) Email Marketing
Now…what good is a script if it never makes it to the director's cut?  An easy way to draw fans to your blog is through email marketing.  Delivering your company's highlights via email, ensures that you've crossed your t's and dotted your i's.  You can't expect that tweeted coupon to have reached every single twitter fan you have, yet almost everyone checks his or her email on a daily basis.
5.) PPC
New studies suggest that 67% of buyers begin their shopping experience online first before headed to the physical store.  Consumers are making less impulse buys and are instead reading reviews and making comparisons.  This is why it is important for every brand to utilize Pay-Per-Click.  The small price you pay for a click can turn into a hefty conversion in seconds!  PPC and is the perfect catalyst to your SEO efforts.
Paying more attention to these online marketing strategies will set your business up for very fruitful year.  As your Atlanta web design company, we can help turn your desired return on investments (ROI) into a reality.