K-3 Technologies | WEB DESIGN
2283
page-template-default,page,page-id-2283,ajax_updown_fade,page_not_loaded,,large,shadow3
© 2011 to 2023 Wordfence — Visit Wordfence.com for help, security updates and more.
Atlanta Web Design Services. We Design Sites that Convert.

C hances are if you own a business here in Atlanta or anywhere else for that matter, you understand the importance of having an effective web presence. Your website serves as one of your main marketing tools, constantly generating profits and leads 24 hours a day, 365 days a year. It's often the first thing that potential customers see of your business, permanently shaping their overall impression.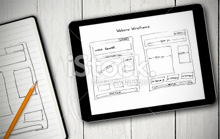 At K-3 Technologies our Atlanta Web Design services provide start-ups to large corporations with a variety of options for creating a profitable web presence. From simple websites to complex e-commerce and database applications, we have the knowledge and experience to create sites that not only look good, but more importantly generate revenue.
Here is a breakdown of our website design packages: Startup, Small Business, and Corporate. Use this information to find the service best suited to your needs and budget. If you can't find what you are looking for, feel free to visit our Creative Services section where you will find information on things like content writing, logo design, etc.
4 REASONS WHY YOUR WEBSITE IS CRITICAL
GENERATE MORE QUALITY LEADS
Of consumers research a company online before making major purchasing decisions.
REACH MOBILE AUDIENCE
Of companies who optimized their websites for mobile devices saw improvements in revenue.
IMPROVE USER EXPERIENCE
Of consumers view a company's website as a reflection of it's attention to detail and customer service.
IMPROVE WEBSITE TRAFFIC
Of website visitors leave a site if it takes more than 2 seconds to load.